Introducing Fearless Fulfilment
Fearless Fulfilment is an end-to-end fulfilment solution, covering storage, logistics, shipping & returns, customer service and data-led consumer insight.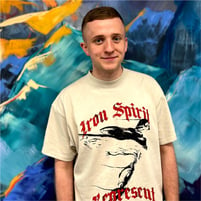 The Problem
The idea for Fearless Fulfilment stemmed from Co-founder, Matty Donaldson, facing a common problem within the industry. He found fulfilment centres often over-charged for additional services, resulting in complications when understanding costs and budgets. Instead of complex pricing struc
tures and hidden fees, Matty wanted transparency, support and a clear pricing structure. Matty Donaldson, said: "Inthe past, I've been quoted a base fulfilment cost of around £3,000 (which was within the budget), however, after working out all the additional charges, the bill totalled over £8,500. It's time to change the system and the model of fulfilment."
The Solution
Fearless Fulfilment aims to disrupt the industry by offering an end-to-end fulfilment solution for businesses of any size, whether you are a new start-up or a large operation.
We will offer:
A clear pricing structure with an all-in-one monthly cost.
Warehousing and tech-based fulfilment, integrating with Shipster's platform.
Support to founders of all growth stages.
No additional charges.
Our ambition is to offer transparency and support for business owners, putting financial control back into your hands.
What makes us different?
Matty began his career forming 'The Wardrobe Outlet', a fashion, interior and accessories brand. His experience working in warehouses and DTC logistics has ensured we are uniquely positioned to support founders.
Our established relationships give us the position to offer value and flexibility to our founders, resulting in freedom when needing one courier or five.
We work hard to organise and tailor services to any budget for one fixed, monthly fee. This will only differ if the stock increases to more than 20% in volume.
We are by founders, for founders. There is no client too small with having the knowledge and expertise to help in any field.
If you want to learn more, visit the Fearless Fulfilment website today!