Introducing Swim Society
Swim Society is a sustainable and inclusive swimwear brand founded by Montana Brown.
The idea was born out of a discussion with her friends regarding their different experiences when shopping for swimwear. She quickly realised finding a fantastic design that both fits and supports well while being great quality was almost impossible.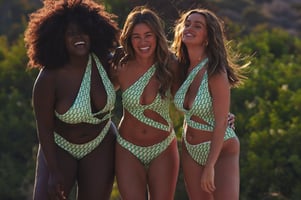 And so Swim Society was founded, built around three core values - no categorisation, transparency and sustainability. Their products are produced ethically and made from recycled polyester with a minimum recyclable content of 85%. Swim Society also work with MoreTree to plant a tree with every order placed.
Why did Fearless Adventures invest?
We'll let our co-founder Dominic McGregor tell you:
"Like true digital natives, Montana and I met on (streaming audio app), Clubhouse. She asked me for advice on growing her brand, and as we talked, I realised this was an entrepreneur with the Fearless spirit and a brilliant D2C business. We're living in a generation where businesses are fronted and started by people of influence, so we're actively investing in those businesses with strong creator connections. Demand for Swim Society is on fire, with fashion giants ASOS and Topshop stocking the products online and fashion mavens like Glamour and Cosmopolitan declaring the label bang on-trend. My partners and I are massively looking forward to supporting Montana and Swim Society as it races to the next level."
Why did Swim Society choose Fearless Adventures?
On choosing to partner with Fearless, the founder, Montana Brown stated: 'The team and I are so excited to work with Fearless Adventures. They're entrepreneurs who have been on fast growth journeys, so their empathy, experience, and expertise are hugely valuable.'