The Digital Landscape In 2022
The ever-moving digital landscape means brands need to stay updated with the latest changes and strategies. This is why we have highlighted three key areas for you to focus on in 2022 – to help you stay ahead of the competition.
THE IMPORTANCE OF CREATIVE CONTENT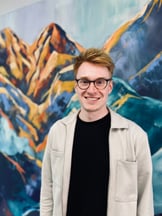 Tech innovation in recent years has driven growth for brands by automating and streamlining processes, however, this often gets too much focus and brands underestimate the importance of high-quality creatives. With advertising costs increasing across the digital landscape and growing competition, it can be difficult to grab the attention of potential customers. So, what do brands need to do? The answer is to build a creative-first approach.
When considering social assets, brands need to recognise that user attention spans are becoming shorter so every second needs to be engaging – especially the first 3 seconds. We are seeing most brands succeed on social by making ads native to the platform that they sit on, this means creating ads that match the look, feel, and function of the media format in which they appear. It can be too easy to become reliant on algorithms to find your audience, but brands need to ensure they stay ahead of the competition by focusing on creatives specific to their needs.
COMMUNITY COMMERCE DRIVING NEW KINDS OF SHOPPING
TikTok is a force to be reckoned with due to the virality of the platform. Community commerce refers to the blend of community, entertainment, and shopping that makes product discovery so unique on TikTok. The #TikTokMadeMeBuyIt hashtag lets content creators showcase the products they discovered on the platform with the user experience being much more fun and entertaining. More and more brands are exploring TikTok as a native marketing channel and it is a platform we expect to continue to grow at the rapid rate it currently is, so brands need to utilise it.
INFLUENCER MARKETING MEETS AUTOMATION
The influencer phenomenon started to shift the landscape between customers and brands by decentralising how businesses reach new audiences. It took power away from a few big companies by giving smaller businesses more of a voice. While this came with many benefits for content creators and smaller brands, we are now in a position where the growth rates of influencers and content creators mean it can be overwhelming for brands to know where to best spend their money
AI and machine learning are now helping brands detect fake followers and inflated engagement. A study by HypeAuditor found that more than half of Instagram influencers engaged in some form of fakery on social media in 2020. Finding a healthy balance between strategic human judgment and ef ficient influencer automation brands can accelerate their marketing ef forts.