The Start of Our Journey
After creating a business, one of the most essential and sometimes shocking mental processes you have to take is the journey of reflection. Let's start in the summer of 2020.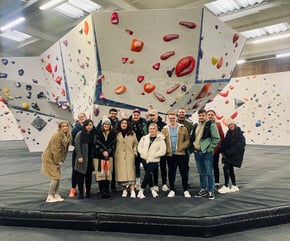 Dominic McGregor, David Newns, and Charlie Yates were all travelling down similar paths. The trio's individual businesses were flourishing at the time, and they were already starting to think about their next opportunity.
David and Charlie first met, having previously worked together to help sell businesses. Over dinner, they concluded that companies were struggling to get to the scale required for an exit and were in desperate need of additional marketing and talent support to help them grow to that point. Dominic McGregor, having had staggering success as the co-founder of Social Chain and already business acquaintances with David, was the ideal man to be part of this trio. He was the final piece in the puzzle for an investment and growth vehicle for entrepreneurs. Together they discovered a gap in the market to help entrepreneurs – not only with capital – but also with marketing services and talent functions required for success. Through their combined knowledge and expertise; Dom's world in Social Media, David's in the tech industry, and Charlie in the e-commerce sector, they were the perfect match. Three like-minded entrepreneurs are passionate about supporting start-ups and determined to find their next big adventure once again.
Hours of brainstorming, name changing, and strategy planning gave rise to what is now Fearless Adventures. The founders' vision for the company is ingrained in their four values – being fearless, pioneering, completely aligned, and explorers. A company created by entrepreneurs, for entrepreneurs, Fearless Adventures is committed to creating meaningful partnerships and helping accelerate the growth of startups. The founders have experienced the highs and lows of growing successful businesses and we are therefore passionate about providing the next generation of entrepreneurs with a ready-made support system. With the diverse marketing, talent, and finance specialists hired, the team is already working with some of the most talked-about startups in the UK!
Our founders' envisionment to become the guiding partner that takes entrepreneur-led businesses to the next level, has come to life and they have embraced every step of the journey that has got us to this point.
There are lots of exciting things in the works that we can't wait to share with you! Let us start our journey together and help you achieve your goals.
Fearless Adventures x